St Johns Avenue Drainage Improvements Project
Project Background
St. Johns Avenue is an existing two-lane road with a roadside open swale drainage system. Due to inadequate drainage conveyance, fronting properties have experienced flooding with long periods of standing water during critical storm events over the years. To alleviate this condition, when completed, the St. Johns Avenue Drainage Improvements project will add a new downstream storm-water retention pond, improve an outfall ditch between the new pond and the roadway, and add a large, piped trunk line along the roadway. These improvements will increase the drainage conveyance capacity to reduce flooding.
A portion of St. Johns Avenue will be widened from its existing two-lane configuration to a three-lane roadway, providing turn lanes for side roads and other access points. Additionally, the project includes major water and sewer line upgrades to serve surrounding users. The St. Johns Avenue Drainage Improvements project is funded by a Community Development Block Grant for Disaster Recovery (CDBG-DR) from the Florida Department of Economic Opportunity (DEO). Project partners include Putnam County, the Putnam County Port Authority, and the City of Palatka. Please click on the project advisories for the most up-to-date information.
Project Advisory – 3/24/23
This notice is to inform the public of the new traffic pattern being implemented on St. Johns Avenue. Both lanes will be closed between Kay Larkin Dr. and Zeagler Dr. as well as between the Woodland Point Apartments and Wes Larson Blvd. Access to the Woodland Point Apartments and the Palatka Center for Rehabilitation and Healing will be maintained from Zeagler Dr. as shown by the purple detour route above. Access to the facilities along Kay Larkin Dr. will be maintained from Wes Larson Blvd. to PRC Way as shown by the green detour route above.

For the safety of all, please abide by the posted speed limits and temporary traffic control on site.

For more detailed information, current routes, and current access please go to the Public Works website at https://main.putnam-fl.com.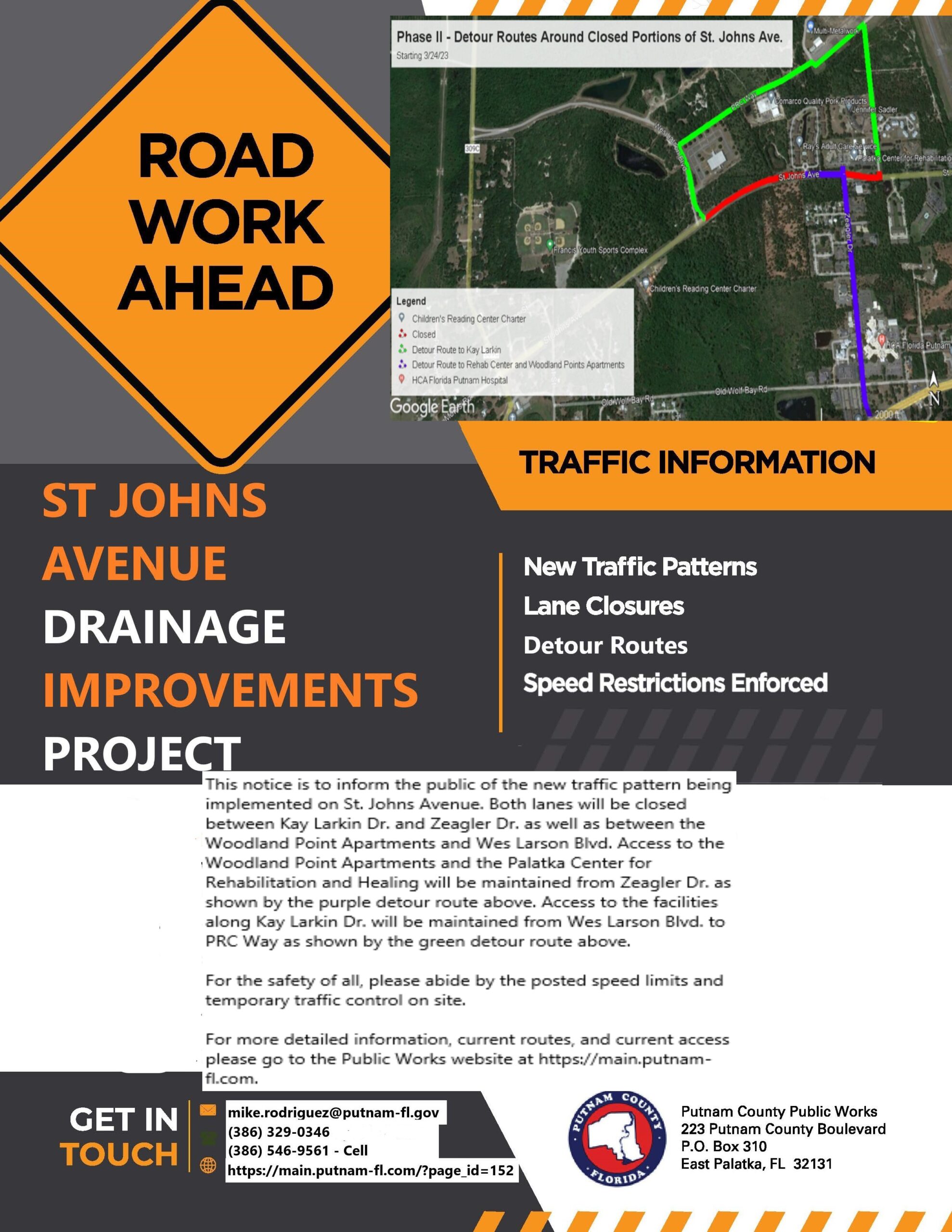 Project Advisory – 12/13/2022
The first phase of the project will commence on the 19th of December 19, 2022. A section of St Johns Ave will be closed from the West of the Woodland Point Apartment Complex to the main outfall as depicted in the St Johns Ave Project Advisory Aerial 12/13/22 (Road Closure in Yellow Starting 12/19/22). Accessibility to the Woodland Apartment Complex will still be provided at the main entrance.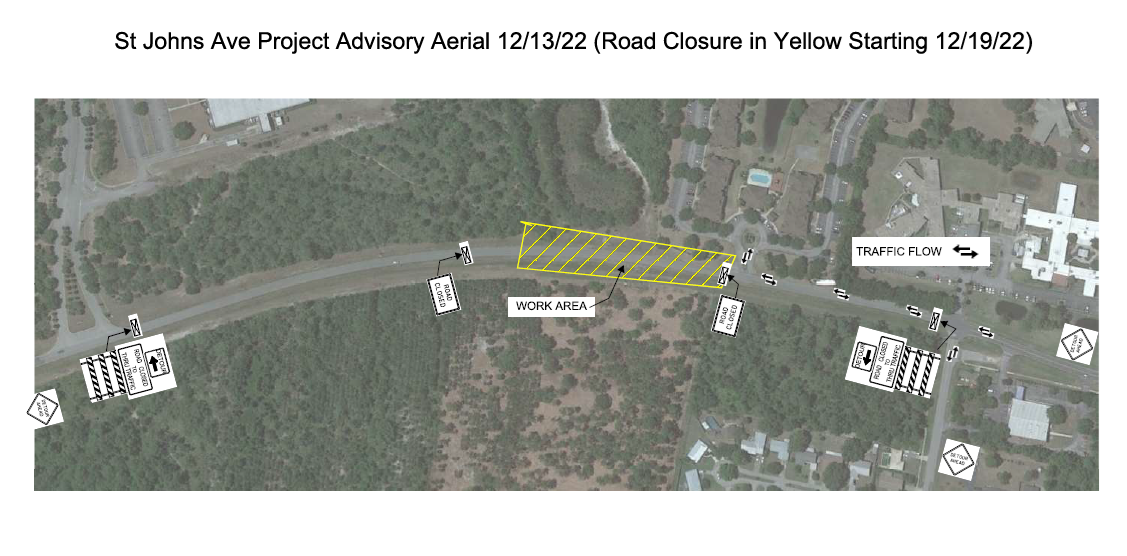 In addition to the accessibility detailed above alternate detours to access various locations throughout the corridor will be available as depicted below.