Putnam County BOCC 911 Services

Venessa Thompson
911 Coordinator
Address & Office Hours
Address: 2509 Crill Avenue
Suite 300
Palatka, FL, 32177

Hours: Monday – Friday, 8:30am – 5:00pm
Contact Information
Main Office: (386) 329-0381

Fax: (386) 329-1213
---
Mission Statement:

It is the mission of the Putnam County 911 Division to assist with protecting the health, safety and welfare of the residents of Putnam County. This 911 Division shall clearly define and strive to implement a uniform addressing system and street network for the assignment of street names and address numbers to structures with access from officially named public and private ways.
---

Text-to-911
Allows you to send emergency text messages to the local 911 Public Safety Answering Point (PSAP) when calling is not an option. It is especially useful for people who may be deaf, hard-of-hearing or speech impaired or if speaking out loud puts you in danger.

The phone carriers send your text message to the appropriate 911 PSAP in Putnam County.

By providing details of your location and type of emergency the call-taker will be able to help ensure the appropriate service is dispatched quickly.

It is ALWAYS IMPORTANT to know your location, address & city, and provide the information to the call-taker.

Note: If texting to 911 is not available in your current location, your phone carrier will send you a message requesting that you make a voice call to 911.

How To Text 911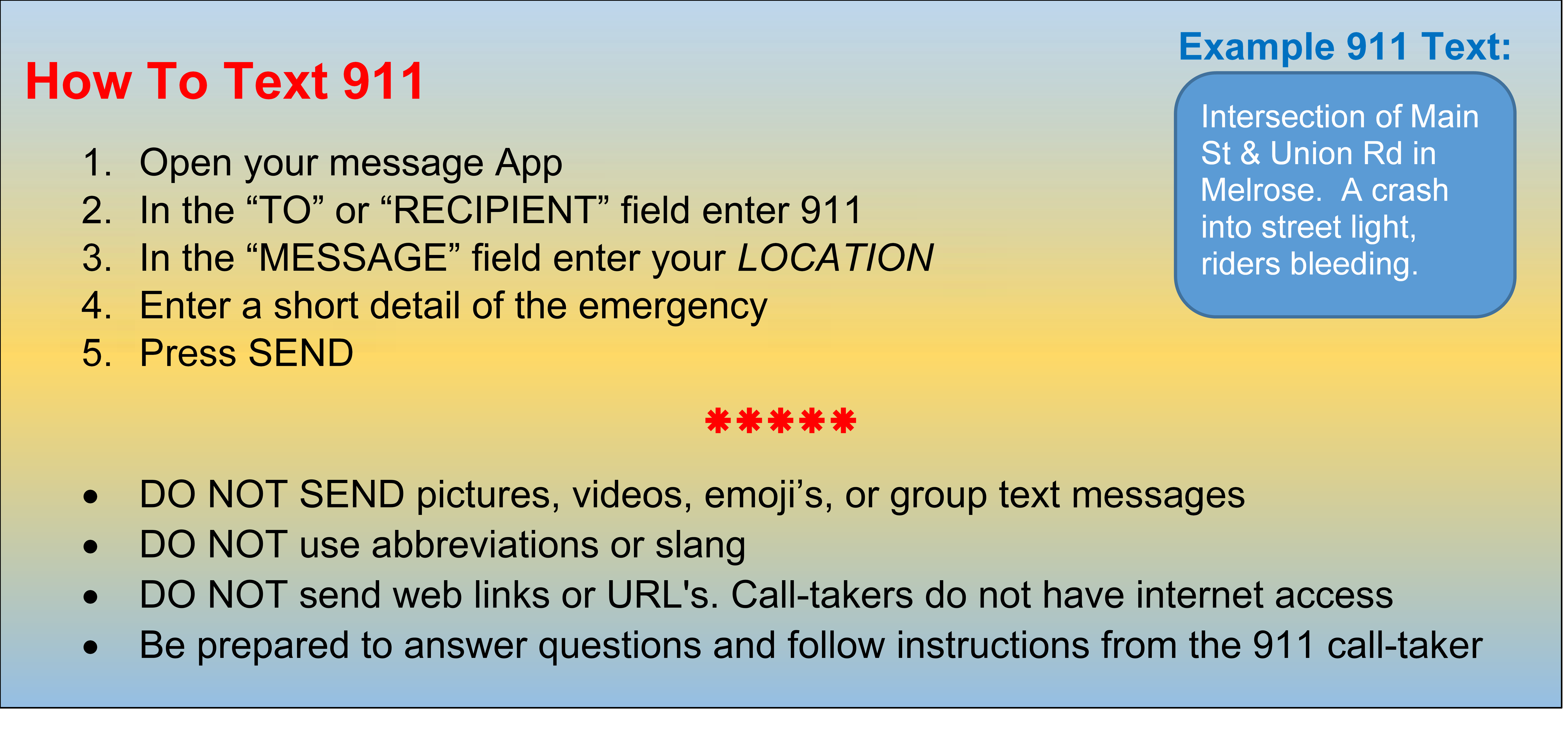 1.
Open your message App
2.
In the "TO" or "RECIPIENT" field enter 911
3.
In the "MESSAGE" field enter your LOCATION
4.
Enter a short detail of the emergency
5.
Press SEND
•
DO NOT SEND pictures, videos, emoji's, or group text messages
•
DO NOT use abbreviations or slang
•
DO NOT send web links or URL's. Call-takers do not have internet access
•
Be prepared to answer questions and follow instructions from the 911 call-taker
When to Text 911
Text-to-911 is not a social media app. It is to be used for EMERGENCIES only.

In situations of:
•
Domestic violence
•
Home invasions
•
Active shooters
•
Abductions
•
Unable to speak or hear due to disability or injury
•
A voice call to 911 puts you in a dangerous situation
•
You have a very weak or no signal, try texting
For more information on this Text to 911 effort, please call or email:
Captain Alisha Kuleski, Chief of Communications Bureau
Putnam County Sheriff's Office
Office Phone: (386) 326-7201
Email: akuleski@putnamsheriff.org
---
BOCC 911 Services & Information
911 services is a Division of Putnam County's Information Systems Department. This division manages the implementation and maintenance of the Putnam County 911 infrastructure directing emergency calls and text messages. Additionally this division manages Putnam County Addressing and Street Naming.

911 Calls
In Putnam County, 911 calls and texts are answered at the Public Safety Answering Point (PSAP). Putnam County 911 telecommunicators (call-takers and dispatchers), are state-certified and highly trained to assist in helping you reach emergency law, fire, or medical services.

Putnam County has a Consolidated Emergency Communications Center (ECC), which means all 911 calls and texts are received here and dispatch of all appropriate emergency law, fire and medical services take place from here. Putnam 911 serves approximately 74,000 residents in 5 municipalities, including the City of Crescent City, City of Palatka, Town of Interlachen, Town of Pomona Park and Town of Welaka.

When To Use 911 Services
911 is the number to contact to receive help from emergency law, fire, or medical services. A voice call to 911 is always the preferred way to access help in an emergency, a life threatening situation or to report a crime in progress. If you can't call, then text to 911 for an emergency.

To better help 911 telecommunicators help you, remember these ABCs when you call for help:

Answer the call-takers questions and know your location. If you don't know the exact address, provide the call-taker with landmarks or cross streets. If you are in a building, be sure to give the floor or office number.
Be sure to stay on the line and if you accidentally dial 911, stay on the line and let the call-taker know. Hanging up will prompt 911 to call you back. A law enforcement officer will be dispatched if there is no answer or a busy signal.
Carefully follow instructions until first responders arrive as the 911 call-taker may provide you with instructions for keeping yourself or others safe.
---
How to Display Your Address
The 911 address numbers must be affixed to the front of the structure, preferably near the main entrance. Note: if the structure's address display is not visible from the street, the address number should also be displayed near where the driveway meets the street. This address display can be affixed to a structure with a contrasting background (e.g., post, wall, or fence), so they are clearly visible from the roadway on which the building is addressed. For properties with multiple addresses (i.e., Units, Apartments, Suite, etc…), the posted address may be abbreviated. Example: 300 Main St, Unit 21 = 300-21.

Click here for the Putnam County Street Naming and Addressing Policy.



Prepaid and Non-activated Cell Phones
Did you know that by keeping old phones charged you can use them to call 9 1 1 even if it is not activated? Non-activated cell phones do not have a service contract nor an assigned provider. Prepaid has an assigned provider but no contract. Be aware when using a phone without a service contract (non-activated and prepaid), if the call gets disconnected, YOU MUST redial 9 1 1. Pre-paid and non-activated cell phones do not provide the call taker with your phone number.

Remember — do not hang up until the 911 call taker says it is ok to hang-up.
VOIP Phones
What is VoIP?

911 has the ability to identify phone service through an internet service provider. This service is known as VoIP (Voice over Internet Protocol). Names also referenced are: Broadband Phone, Voice on the Net(VON), Cable Phone, Digital Telephone or Net Phone, among others.

But like any new technology, VoIP doesn't come without a few kinks. Before you take the plunge review these tips and precautions to help ensure your transition to VoIP doesn't leave you wishing you hadn't changed from traditional service.

You can reach assistance by dialing 911 on most VoIP phones. However, there are differences between VoIP 911 and traditional 911 services. It is important to familiarize yourself with these differences. Click the "read more" link below for tips on how VoIP and 911 services work together.

Be Aware, Be Prepared
Give as much information as possible:
Where is the emergency?
Clearly describe what has taken place:
What is the emergency?
Where is the emergency?
Exact street name and address number
City name
Closest intersections
Your cell phone number
Highway name and direction of travel
Nearest Mile marker or Exit number
Closest Business or Landmark Names
Does the scene need to be secured by law enforcement?
Where is the emergency?
What is on fire?
Closest intersections
Is the person visibly injured?
Is the person conscious and breathing?
How many victims are there?
Closest Business or Landmark Names
If reporting a crime, vehicle and suspect descriptions are important
The PSAP that answers the call may not be the center that services the area from which you are calling. For this issue the wireless 911 call must be transferred to the correct PSAP.

Do not become irritated if you are requested to repeat information you may have already given. Remember, you want the call taker to know as much about your location and incident as possible so they can help YOU.
Wireless vs Landline
911 Callers be aware of differences when using a cell phone versus a land-line phone

Wireless phones do not work the same as wired/land-line phones. When 9 1 1 is dialed from a cell phone the number and location are not automatically transmitted to the 911 Public Safety Answering Point (PSAP). A cell phone 911 call is transmitted to the nearest cell tower. The cell tower then sends that call via land-line to the designated PSAP for that cell tower area.

Remember — do not hang up until the 911 call taker says it is ok to hang-up.

Lost response time can present life-threatening problems if the caller is unable to communicate where they are or where the emergency is. Not all wireless 911 calls can provide location information promptly and sometimes not at all.
911 Helpful Hints
Learn the non-emergency telephone numbers to reach help in your area.
Refrain from programming your phone to automatically dial 911 when one button is pressed.
If your wireless phone came with a pre-programmed, auto-dial 911, disable it.
Activate your GPS location feature.
Lock your keypad when your phone is not in use to avoid accidental 911 calls.
It is important to remain calm while on the phone so that the call taker can understand you.
E911 Documents • Forms • Policies
Forms
Policy